4me Enterprise Service Management Application
Let our team take the strain!
4me is the first enterprise service management application specifically built to support the Service Integration and Management (SIAM) approach. It allows the internal and external service providers of an enterprise to collaborate while 4me keeps track of the service levels. 4me also offers, by far, the fastest global response times and the most user-friendly interface.
​Apart from providing service desk analysts and support specialists a fast and intuitive user interface that minimises their administrative effort, 4me also offers the following premium benefits:
​Automatic tracking of all end-to-end SLAs, as well as the services provided by shared services organisations and managed service providers.
Seamless and secure collaboration between all support domains within the same organisation, as well as with its managed service providers.

Multiple Domains 4me Can Support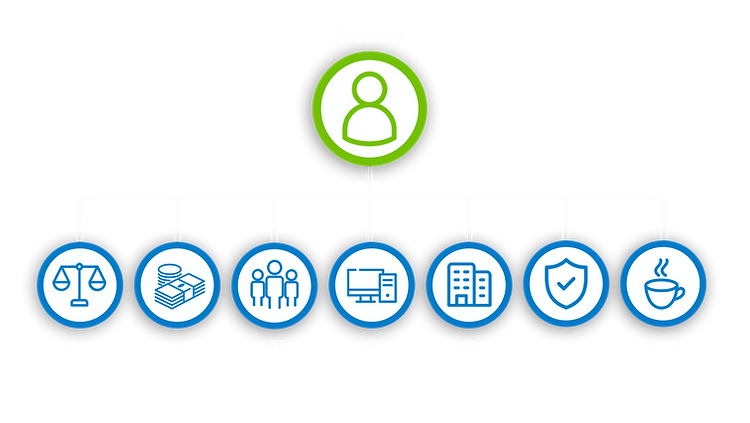 Over time, most organizations see more and more departments ask for a support domain. Setting up an additional support domain account is easy in 4me. All the employee, department and site data is already available in the directory account, as well as the self service design and single sign-on configuration. What also helps to overcome a significant obstacle in the introduction of ESM is the fact that setting up a 4me support domain does not cost anything.
All that a support domain needs to do to allow employees to submit requests to them is:
register their support teams, and
register the services that these teams support
Thanks to 4me's account structure, the setup of an additional support domain is typically only a 2-day exercise.
Collaboration Between Support Domains
Once multiple support domains are in use, they can agree to allow collaboration between their 4me accounts on requests, changes, projects and/or assets. Think for example of a request for onboarding a new hire. Such requests may trigger a change workflow with tasks for the HR department to set up payroll and benefits, for IT to provide a laptop and an email account, and for facilities to make a desk available.
This is how modern organizations transition smoothly from IT service management (ITSM) to enterprise service management (ESM).
Why Choose CIH Solutions?
CIH Solutions have been implementing, configuring, improving and optimising IT service management toolsets since inception and we love the way that 4me is built from the ground up to incorporate best practice disciplines with SIAM at its core. This allows us to offer a range of services complementary to the 4me offering.