Any Service Management processes that require communication and enhancing that communication by taking Heed.
​
Could your organisation benefit from:
Reducing the number of distractions to key workers
Removing wasted effort, or duplication of effort by multiple people
Users being alerted in a timely way, when it's needed how they want to be alerted
Gaining transparency as to process and service issues
Take HEED, the tool that puts you in control of your messaging requirements directly integrated into your ITSM systems.
Take HEED of Incident Management
Initial incident management communications cannot afford to rely on the same system we use to manage virtually every activity in business.
Email is notoriously overloaded and ineffective, yet 83% relied heavily on email to gather the incident response team.
Not only is it slow, email is static. Once formulated, the message remains in an inbox, unchanged. No updates, no new information, no reminders; to do that you need to create a new message, which joins the long list of unread inbox messages.
Use intelligent notifications to get real value from your incident management process.
Take HEED of Centralised Approvals
Forget sending an email navigating back to a self service portal, HEED provides the following:
​
One Click Approvals – Present users with the relevant information in one central place to action approvals from multiple systems with just one click.
Eliminate Redundancy – State aware Removes irrelevant or redundant approval requests that have been actioned or completed by another member of the Approval Group
Target Approvals – Intelligently target specific approval groups using channel subscriptions that can be synchronised from common enterprise platforms.
Accountability – See which users have seen notifications, which device they have seen it on, when they saw it and which users are taking action.
Improving on the experience of most ITSM solutions the Heed mobile app extends this centralised user experience from desktop through to mobile, enabling and ensuring that approvals, notifications can be actioned on the move for the entire workforce.
View and manage approvals cross-platform directly from the enterprise Heed mobile application, keeping users informed of all of their relevant actions, wherever they are.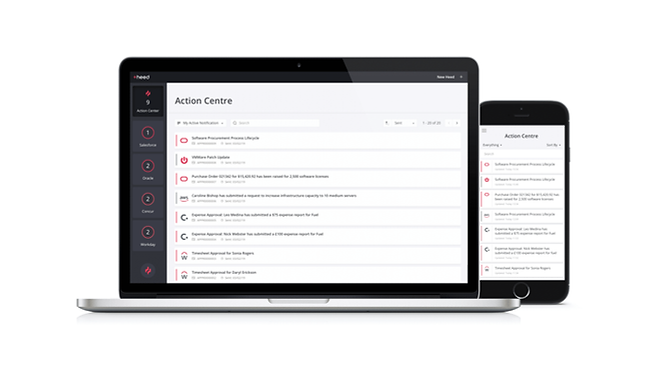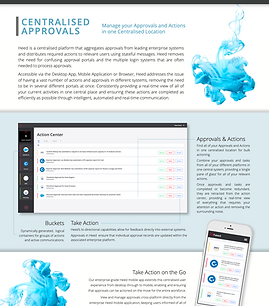 Find all of your Approvals in one centralised location, providing a 'single pane of glass' for all of your relevant actions. Once approvals and tasks are completed or become redundant, they are retracted from the action centre, providing a real-time view of everything that requires your attention and removing the surrounding noise.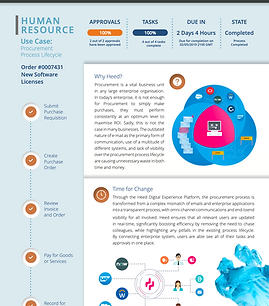 On-boarding a new employee seems like it should be one of the simplest processes in any business. However, the reality of employee on-boarding is that it is often not complete by the time the new starter joins the business.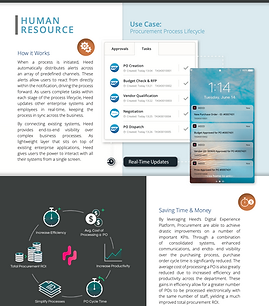 Procurement is a vital business unit in any large enterprise organisation. In today's enterprise, it is not enough for Procurement to simply make purchases, they must perform consistently at an optimum level to maximise ROI.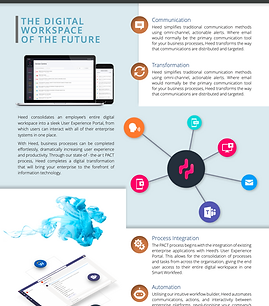 With Heed, business processes can be completed effortlessly, dramatically increasing user experience and productivity. Through our state-of-the-art PACT process, Heed completes a digital transformation that will bring your enterprise to the forefront of information technology.